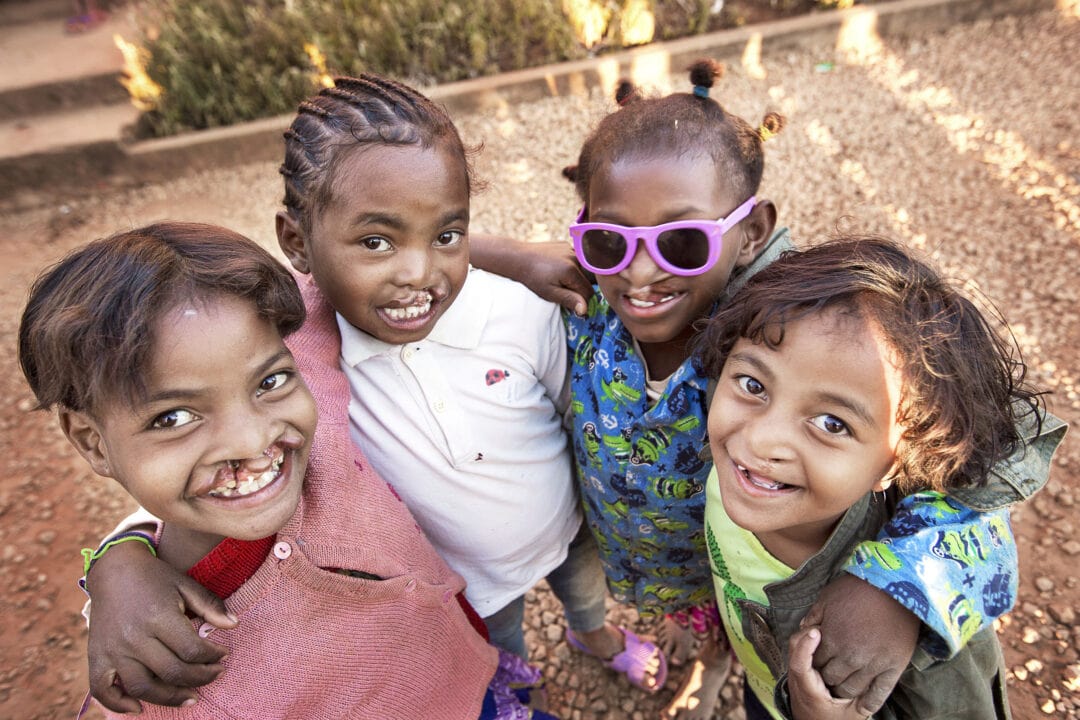 Help and FAQs
Here you'll find some freqently asked questions about Operation Smile, our work, and cleft conditions. There's also information about our medical programmes and volunteers, as well as how to leave a legacy gift in your will. Just choose a topic from the bar below to learn more.
Operation Smile's goal is to provide life-changing surgery for children suffering from cleft lip and cleft palate and we have chosen to focus on the delivery of free surgery to children. The costs of administration when matching a donor with a child are high especially when tracking and following individuals over an extended period of time.
We are committed to helping as many children as possible and regularly take pictures and stories as part of our post-operative programme when we check on the progress of children in the year following their surgery. We will regularly share these stories and images with supporters so they can feel connected to the children whose lives they have helped transform.
If you'd like to receive these updates, please sign-up to Smile report and we will send you smiles every month.
While we are very grateful for any donations we receive, we prefer that funds are not restricted to an specific country or project. This enables us to send money to where it is needed the most and helps to keep administration costs low.
If you would like to donate to a specific project or country we can, of course, usually accommodate this. Please call us on 1800 849 061 and we will happily discuss the options available with you.
We do not receive any government funding and our work is only made possible because of the support we get from our generous supporters.
Children around the world born with cleft lips and cleft palates have been waiting their whole lives for our help. Your support helps us make a lasting difference to the lives of children, families and communities around the world.
We have over 40 years' experience in mobilising medical professionals from all over the world to treat children with facial deformities. We bring together the latest, most effective practices and training to deliver safe surgery and the impact of our work is lasting. We leave behind a legacy of trained medical staff, surgical equipment and professional partnerships that work year-round to ensure more children are healed and more lives are changed.
Operation Smile CEO Dr. William P. Magee is the organisation's Co-Founder, has a 40-year tenure and brings the skills of a tenured plastic surgeon to the position. Dr. Magee oversees a $100 million budget with a global network of offices and programmes in more than 35 countries and 600 full-time global employees. Our website contains the most up-to-date financial reports. If you would like to discuss your concern further, a member of our Supporter care team would be glad to speak with you at 1800 849 061.
During our last financial year, in Ireland, for every €1 raised, €0.71 was spent on our charitable aims.
We work hard to ensure that all donations are used in the most efficient way and that funds are directed to programmes where they will have the biggest impact on children with cleft conditions. We deeply value the trust our supporters place in our work and are committed to making the most efficient use of our resources.
When you donate Operation Smile you can be confident that your money is funding surgical programmes, training healthcare professionals, and raising awareness of the plight of children with cleft conditions all over the world.
The current Board of Directors of Operation Smile Ireland maintains responsibility for governance and administrative issues. They also provide leadership and open doors for new fundraising opportunities to accelerate the growth of Operation Smile. The Board of Directors is also responsible for signing off our annual, independently audited accounts found in our Financial Information section. All directors are volunteers, and do not receive compensation of any kind.
Operation Smile prides itself in over four decades of experience as one of the largest surgical volunteer-based non-profits.
Talk to us
If you need any further help, our Supporter Care Team is here to answer your questions.