Care for brighter futures
As soon as Iris gets off the bus and, together with her mother, moves through the crowds of people at a bus station in Managua, Nicaragua, she hides.
Walking behind her mother, she holds one hand on her mother's shoulder and the other covers her mouth. Her eyes are locked on her mother's back, as if she doesn't want to meet the eyes of any of the strangers staring at her.
Iris' story
In a certain way, Iris is lucky. Her mother loves her no matter what. She thinks she is beautiful – the best thing that happened to her.
So many other children born with cleft conditions experience the opposite; their mothers and fathers feel shame and fear instead of happiness and love when they see their children for the first time. Iris has felt love from the very beginning.
But what Iris shares with nearly every child affected by cleft is the feeling of being different, not fitting in and not feeling equal to her peers. Though Iris goes to school with her friends, she always hides her face whenever she is among strangers. She's used to living life in the shadows of her friends and family.
Iris and her mother, Sandra, have taken the bus for five hours from their hometown of Matagalpa to the capital city of Managua, where an Operation Smile cleft care center is located. They're coming so Iris can finally receive surgery after so many years without treatment. Sandra has tried before to have her daughter treated at a regional hospital. The first time, Iris got sick. The next time, they just couldn't afford the trip.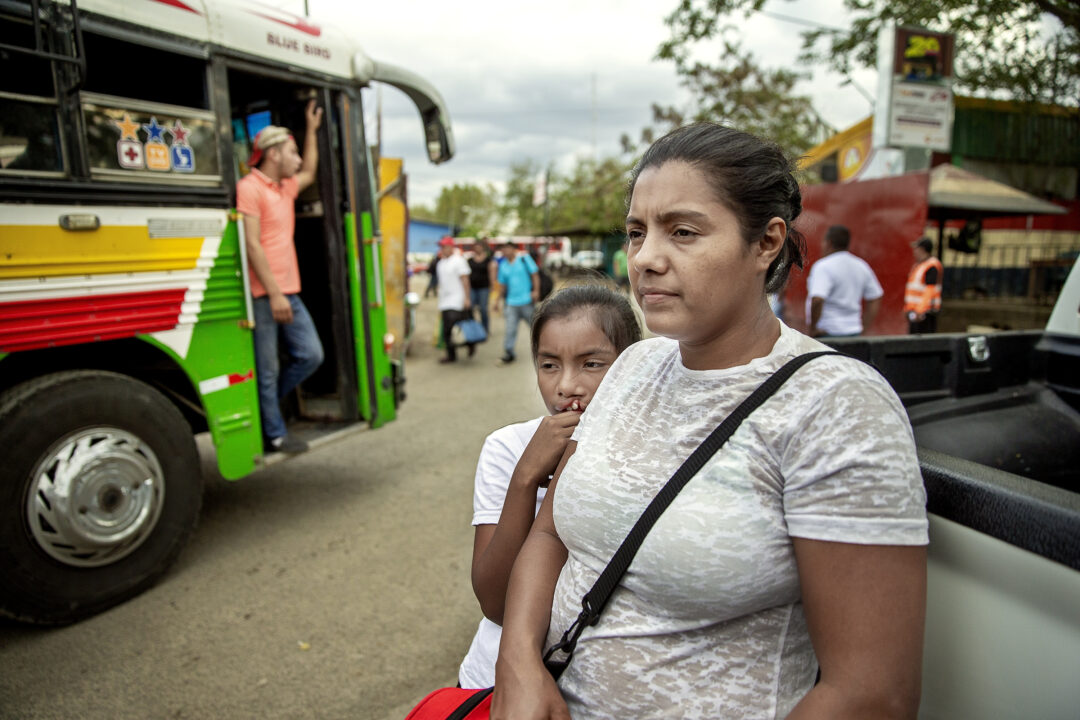 My husband works in the fields as a farmer for anyone who can offer him some work. I am a housewife, we are a poor.

Sandra, Iris' mother, Nicaragua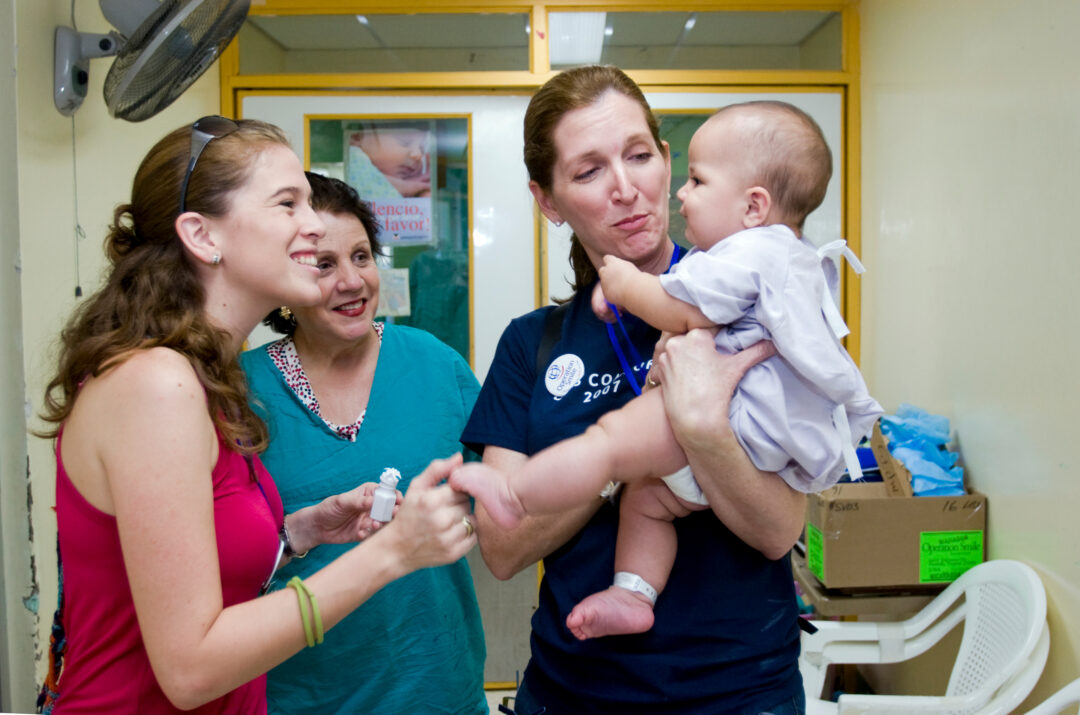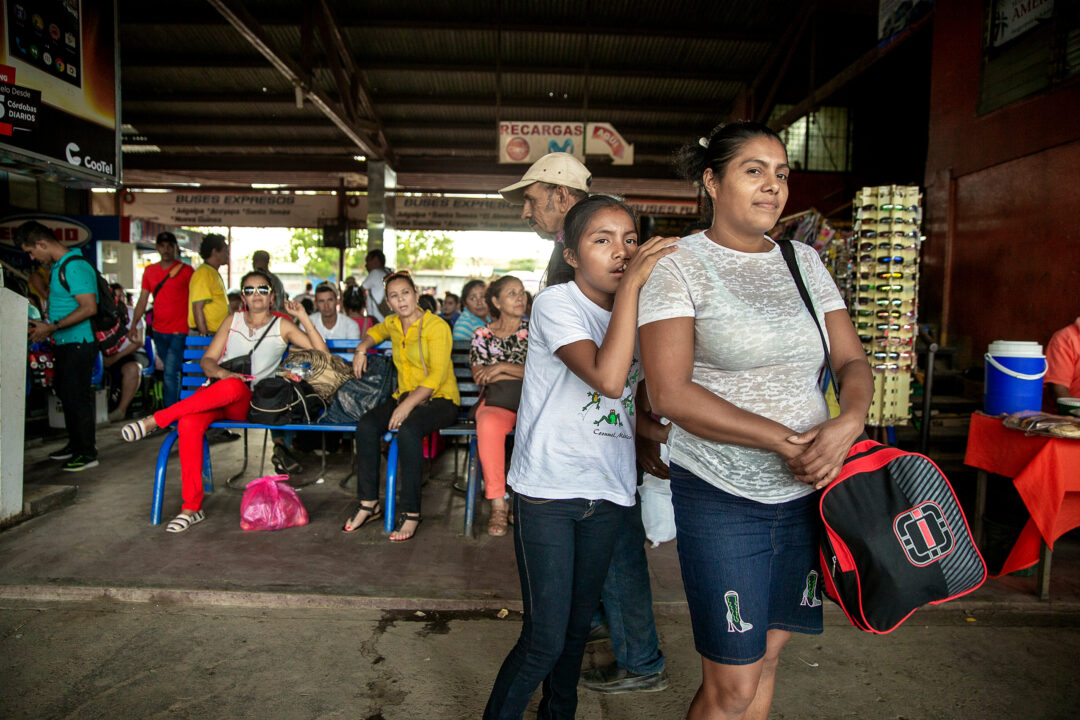 It's more than cleft surgery
But this time they were fortunate. A woman who happened to see Iris decided to help the family by giving them information about Operation Smile and money for the bus trip. Now, they've arrived at the Operation Smile care centre in Managua – eager, full of expectations but also nervous.
"What makes me very proud about this centre is that we not only offer surgery to repair a cleft lip and cleft palate, but that we see the patient not as a surgical case, but as a family member," says Indiana Siu, Operation Smile Nicaragua's executive director. "They come here normally as babies and stay under our care until they are 16 or 17 when they are fully treated. It is not enough to just give them surgery, but to also help them integrate into society so they can talk and communicate with other people."
Operation Smile has over 25-year history in Nicaragua. With the support of the Nicaraguan Ministry of Health, it all started in 1993 with brigadas – "brigades" – of international medical volunteers coming in to perform surgeries at state-owned hospitals.
"At that time, we had no idea of the need. There were no mobile phones; announcements were made through radio," says Eliza Maria McGregor Montealegre, Operation Smile Nicaragua's co-founder and vice president of its board. "Soon, we discovered this was just the beginning of trying to solve a huge problem. Many other organizations came from abroad, but they all left after a while and we stayed."
Indiana adds: "We have grown exceptionally in all aspects. When I started in 2010, we did 100 to 200 surgical procedures per year. Now, we are up to 500 per year. We have almost 14,000 visitors per year (at the care centre). And by cooperating with the Ministry of Health, we can reach out to the population of the whole country and offer them safe surgery."
In 2016, Operation Smile Nicaragua opened a care center in Managua
Named after the founding MacGregor family, it has brightly-colored walls, big windows and a welcoming atmosphere. A playground in a small outdoor square is full of children waiting for their appointments with the medical specialists. Here, Operation Smile offers consultations with anaesthesiologists, paediatricians, orthodontists, speech therapists, psychologists and nutritionists. Surgeries are performed at Hospital Alemán Nicaragüense, a state-owned hospital nearby.
Now, it's Iris' turn to meet psychologist Dr. Maria José Chevéz. She shows Iris drawings of a child who's about to have surgery – how the anaesthesia mask is placed over the face. Then, Maria brings out a real mask and Iris tries it on for herself. She breathes as instructed.
"I try to explain to Iris and her mother what the steps are during the process. She feels nervous – it is her first time to be so far away from home for so long," Maria says. "Many parents have questions, specifically about the anaesthesia, if there are side effects. There are so many myths that it might have effects long term, so we try to explain and answer all the questions.
"If the mother feels calm during the process, the patient is very likely to feel calm as well," she adds.
Iris and her mother spend nearly the whole day at the center and consult with all the necessary specialists. Tomorrow is her big day – Iris will finally receive the surgery that she's always deserved. And here, with all the other children affected by cleft playing around her, she no longer hides her face.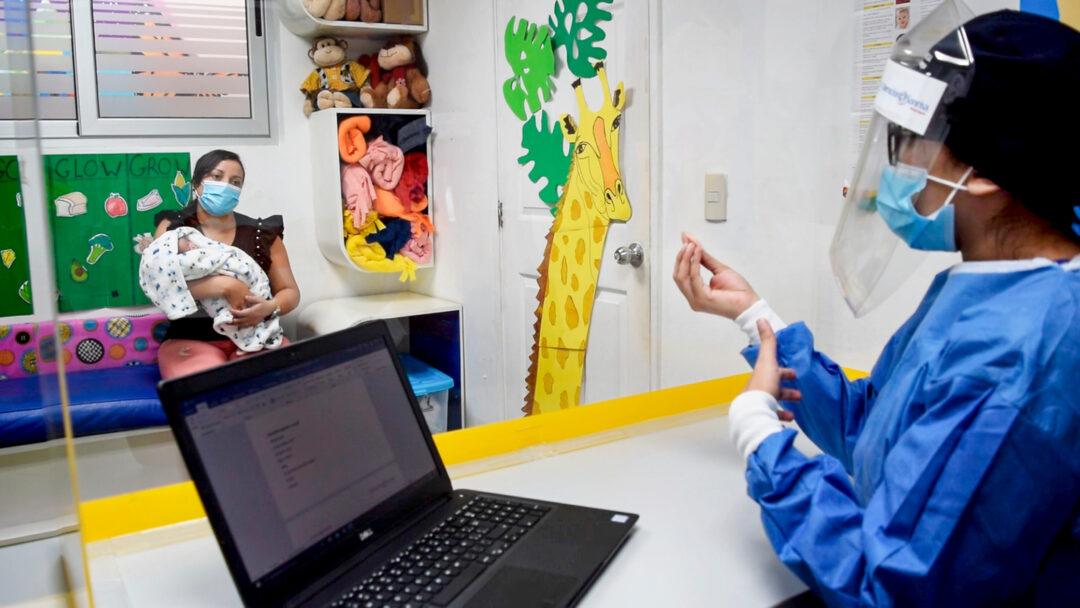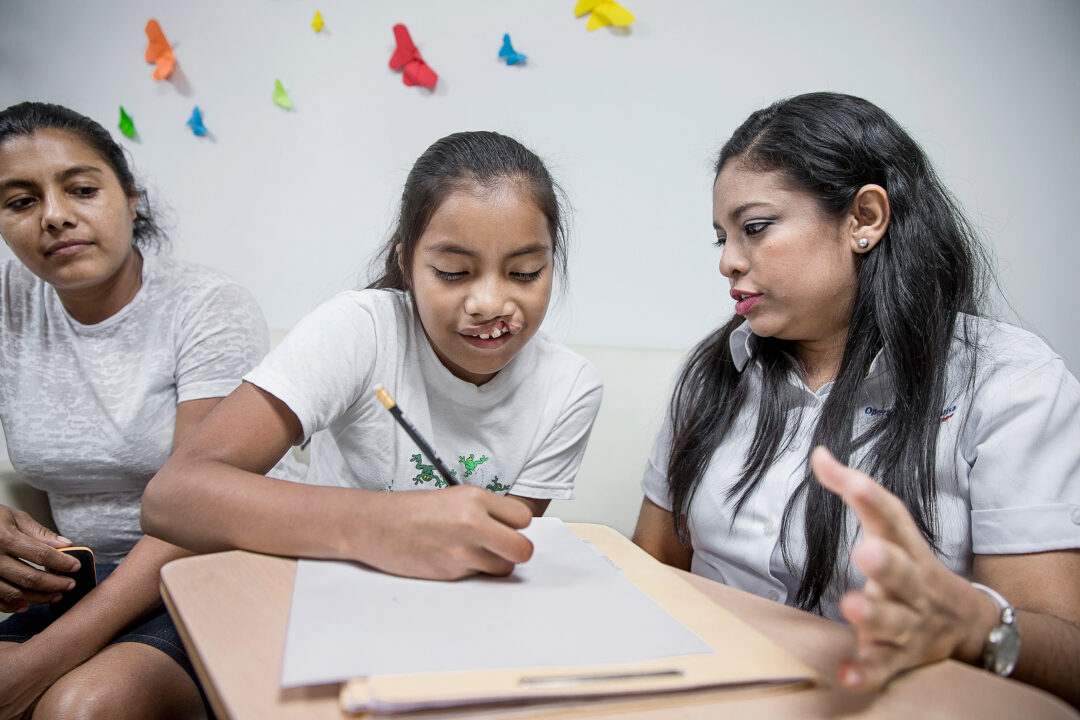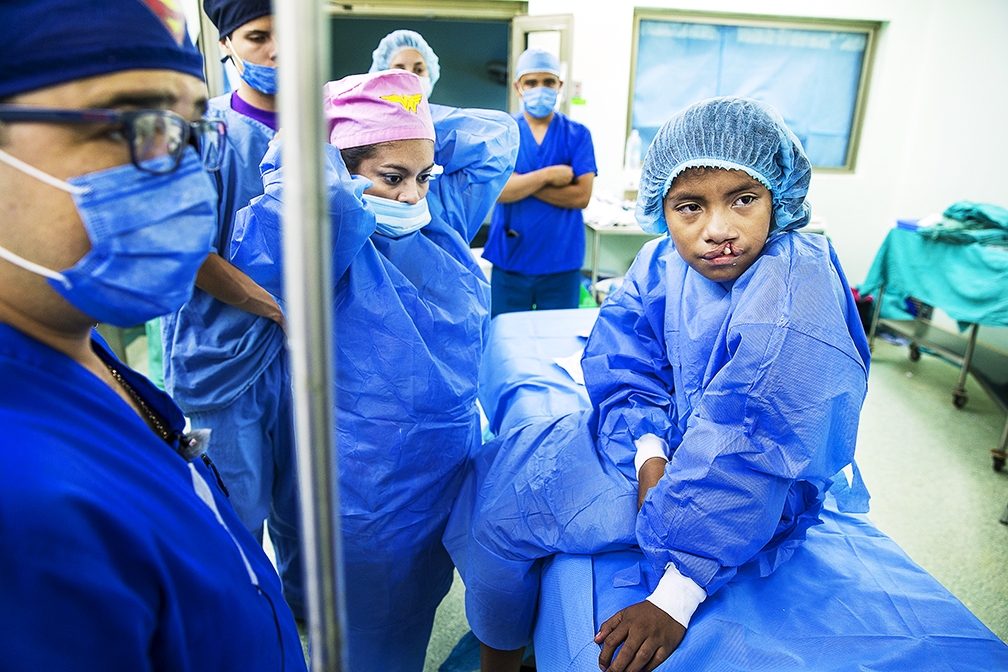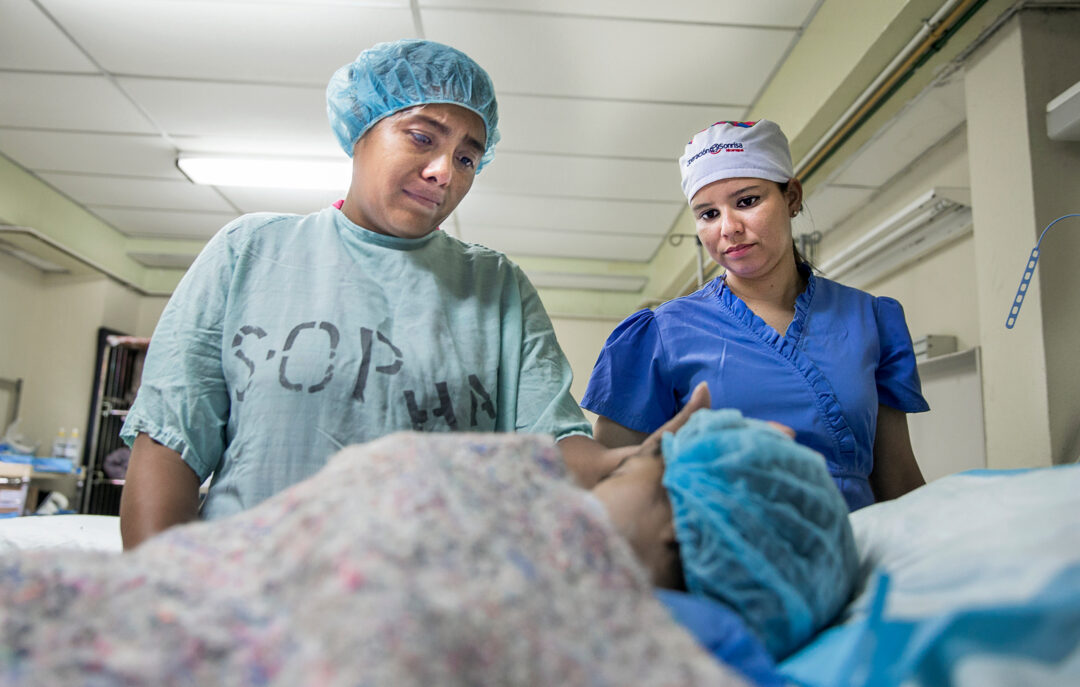 An hour surgery that changes lives
Early in the morning, Operation Smile Nicaragua's volunteer medical team arrives at Hospital Alemán Nicaragüense to prepare for the two surgeries to be performed that day.
Iris is one of those patients. In a bed in the pre-operative ward, Iris is lying face down, not wanting to talk to anybody.
"She is nervous and afraid because it is the first time she is at a hospital, undergoing surgery," says Sandra, as she sits on the bed next to her daughter. "I am praying to God that everything will go well and that she feels better after.
"She is beautiful as she is, but I think she will be a happier person when this is over," Sandra says as she strokes Iris' hair carefully.
It's almost time for Iris' cleft lip surgery and Dr. Maria José Chevéz, the psychologist who she met yesterday at the center, is there to keep her calm. They walk towards the operating room and sit on a bench for a while, playing and talking.
But now it's time to go. He takes Iris' hand and they together walk into the operating room, leaving Sandra outside to pray and wait. "I have been waiting for this since she was a little baby," Sandra says. "Ever since I got in touch with Operation Smile in January, we have been treated well. Everybody has been so nice and accommodating. Now I feel so happy that this moment is here".
An hour later, the moment has arrived for Sandra to see her daughter for the first time after surgery. As Iris is brought to the recovery room on a rolling bed, Sandra can't hold her tears back. She cries openly, embraces her daughter and talks to her with so much love in her voice:
"Thanks to God everything went well, my darling. You can relax and just recover now. I am crying because I want to thank God and everyone who has been working with you."
With tears in her eyes, Maria is also there to witness this emotional moment.
After this surgery, Iris will be able to come back to her village and feel and look like the rest of the children there, she will be able to feel confident and overcome her shyness a little at a time so she won't feel the need to cover her face anymore.

Sandra, Iris' mother, Nicaragua
Iris was beautiful before surgery
Now she can be happy and have a better chance for a brighter, healthier future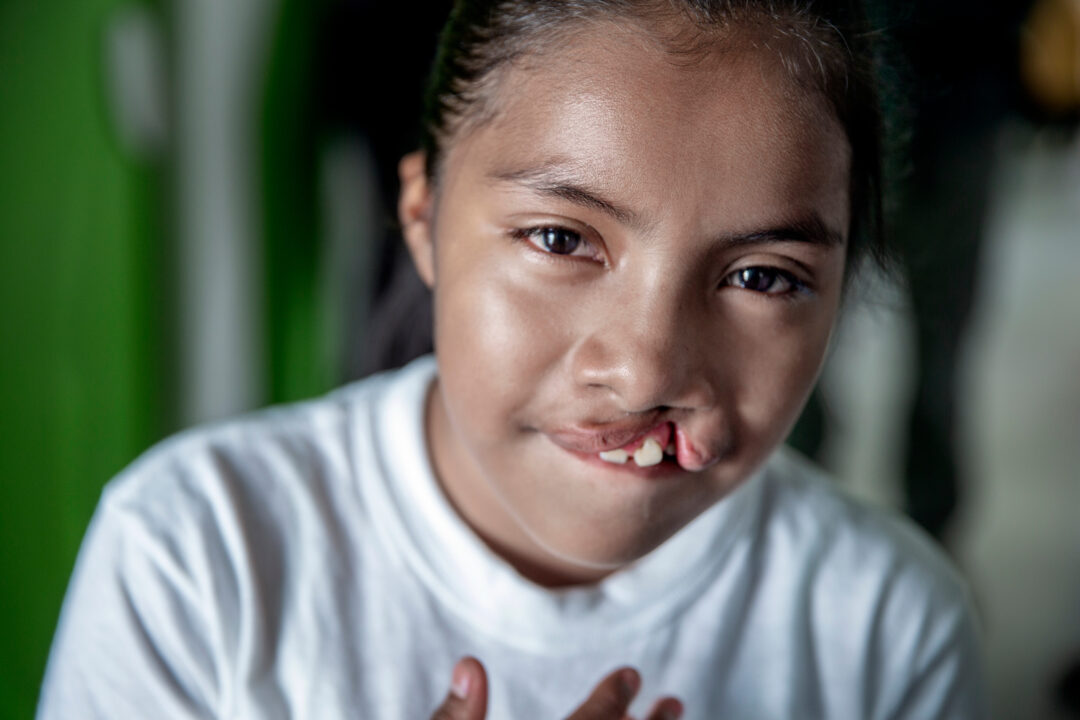 Cleft care in Nicaragua since 1993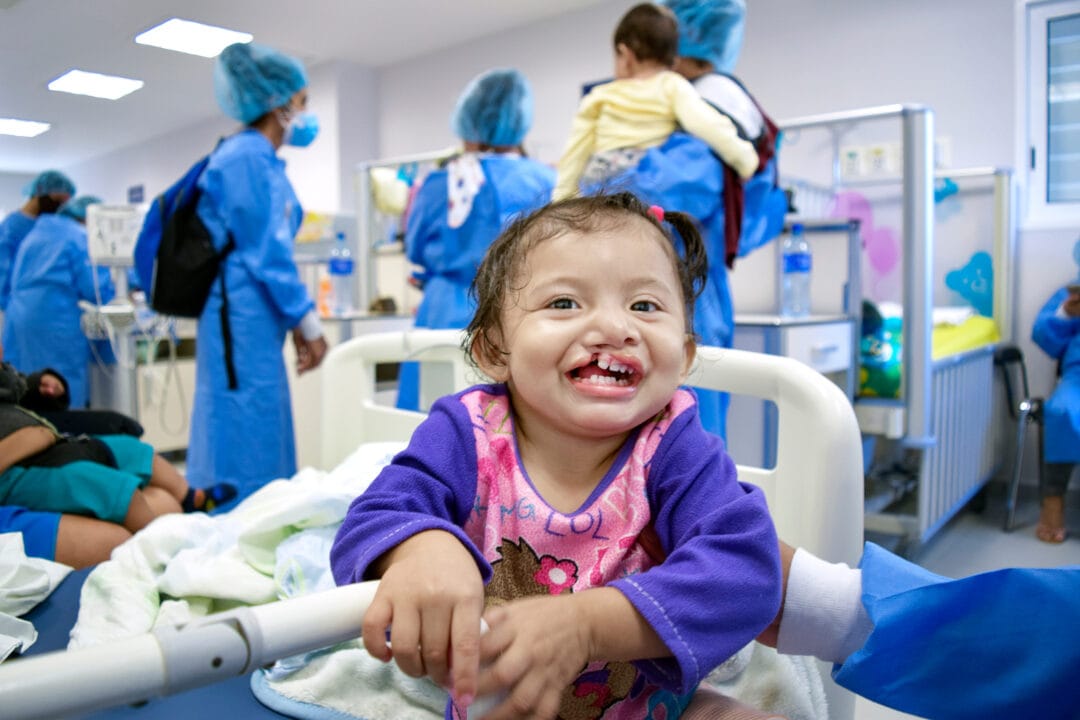 Donate to help us continue all year-round cleft care